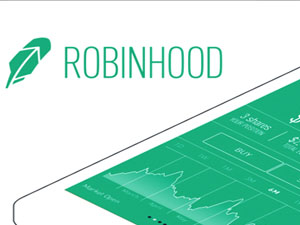 Robinhood, The California Brokerage Known To Be Going Deeper Than Coinbase Into Cryptocurrencies
June 26, 2018
Known to be the first broker that offers free stock-trading and the one who made it famous the California broker seeks to dive deeper and get the most out of the Cryptocurrency market. Right now, Robinhood seems to be a challenge that Coinbase should be aware of and worried about.
Since February, Robinhood was able to trade Ethereum and Bitcoin 24/7 for free on their portals, which already has more than 15 Cryptocurrencies available for trading, including Bitcoin, Litecoin, Ethereum, and Dash.
Robinhood Is Building A Cryptocurrency Wallet
Robinhood announced that is looking to hire developers to build-out a Cryptocurrency wallet. If this gets done, traders and investors would be able to transfer their Cryptocurrency holdings from outside brokerages and wallets and send them to Robinhood. Being able to have a Cryptocurrency wallet would make things simpler and more accessible since users currently have to sell coins first and then transfer the money to another platform and buy them to transfer coins in and out of the Robinhood platform.
Not only it provides an on-ramp for users to send coins from elsewhere at Robinhood, but it would also provide a safe way for Robinhood customer to store their coins under the same company umbrella.
Since users have been asking for the ability to transfer their coins into Robinhood, adding a Cryptocurrency wallet to the platform would be a fantastic move for Robinhood.
Robinhood Fees Regarding Bitcoin And Ethereum Trading
Coinbase is currently charging its customers more than a 2% transaction fee for buying and selling Cryptocurrency; Robinhood took a step ahead of the situation and let users be able to trade Ethereum and Bitcoin in their portal without charging any fees.
However, Robinhood isn't the first broker to challenge Coinbase like this, a Boston-based Fintech firm known as Circle does not charge fees for trading.
Since Coinbase operates in a much larger business, having more to do outside its retail brokerage, it is hard for other brokerages to compete with them.
So, if you want to get in the trail and challenge Coinbase, attracting larger holder folks onto the platform by offering no fees on two of the most famous Cryptocurrencies is a great way to do it.
Coinbase And Robinhood: The Competition
While Robinhood gets popular for their lack of fees in Ethereum and Bitcoin trading, it does not look like Coinbase wants to get involved in that story. Coinbase previously stated and pointed out how important their fees were and said that they help them moving customers' Bitcoin in and out of their platform. That is a feature that Robinhood currently doesn't offer, but looks forward to rolling out and make it available to their users successfully.
Robinhood Futures In The Crypto Market
What they offer right now, what they advertise, and what the community expects from Robinhood makes them clear with the firm's ambitions; they seek more than what they offer right now.
They cleared out how they see Crypto, as a gateway to its equities and options when talking about businesses opportunities.