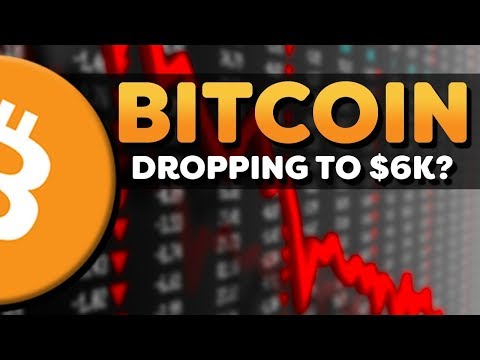 Bitcoin's Price Drops Below $7,000 And Investors Freak Out
June 12, 2018
Bitcoin has had a rough time these last 2 months when it comes to its value, being this last weekend when it reached its lowest point, placing itself below the $7,000. Investors in social networks are currently formulating theories as to why this happened.
Meanwhile, experts in the topic of Cryptocurrencies still don't meet a common ground when explaining what could have caused the drop in Bitcoin's price. Possible causes that have been cited include ha manipulation attack on the price, South Korea's piracy, or even just a few sales increase.
This fall in prices has attracted attention and comments from all places in the community, creating a debate in forums related to what could be behind it and what could happen next.
According to information provided by the CoinDesk news' website, investor Alistair Milne conducted a survey through the Twitter social network this past Sunday. In it, he asked for information about what people thought to be the cause behind the plunge.
The survey showed that, from a population of 3,700 participants, 9% blamed the Coinrail hack for the abrupt fall; 12% blames the CFTCs; and 50% answered sarcastically, blaming the "aliens".
Additionally, according to data, Bitcoin wasn't the only victim of this price movement. Other major Cryptocurrencies such as Ethereum or Bitcoin Cash have also shown their market capitalization to be "wounded", with prices following the example of Bitcoin's.
The Other Face Of The Crypto Coin
Not everything is lost, however. In fact, many investors don't consider the current situation as negative. Even though Bitcoin's price was stagnant for weeks prior, it was seen as a "half full" situation.
Contrary to popular belief, many investors see this opportunity as the right time to acquire more coins while others ask for the process to "take its time".
Every website has shown itself to be full of opinions related to how each person perceives the change, and where Bitcoin could be heading this week.
History

Bitcoin seems to be in a bubble that keeps "popping" time and time again. However, it always manages to recover.
The question is, for how long?
During December 2017, Bitcoin saw its prices sink for more than 20% of its value.
Later, during February this year, it reached its lowest point before getting back some of its value. It went from $15,000 to around $8,000 in less than a month.
Bitcoin managed to gain back a big part of its value by the time March came in, placing itself at $10,000 before falling yet again a month after, when it hit the $6,000 mark,
By the end of April, Bitcoin saw itself at $9,000 before descending in a slow but steady manner until this point that is being experienced by the trading community right now.
While some people say that Bitcoin is the future and others say the contrary, the truth is that this kind of volatility makes it especially hard to determine which side is right.